Related Subjects: | Fever in a traveller |Malaria Falciparum |Malaria Non Falciparum |Viral Haemorrhagic Fevers (VHF) |Lassa fever |Dengue |Marburg virus disease | AIDS HIV | Yellow fever | Ebola Virus | Leptospirosis | Crimean-Congo haemorrhagic fever |African Trypanosomiasis (Sleeping sickness) |American Trypanosomiasis (Chagas Disease) |Incubation Periods | Notifiable Diseases UK

Asymptomatic or mild febrile illness in approximately 80% of patients. About 100,000 to 300,000 infections of Lassa fever occur annually, with about 5,000 deaths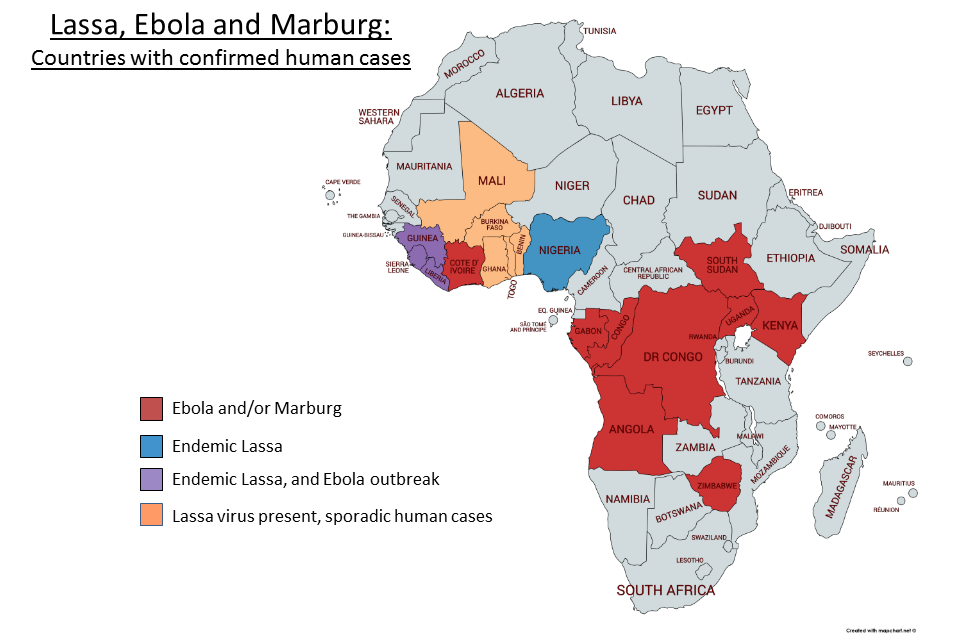 About
Animal-borne, or zoonotic, acute viral illness spread by the common African rat.
Endemic in parts of West Africa including Sierra Leone, Liberia, Guinea and Nigeria
The first documented case occurred in 1969.
Lassa fever is named after the town in Nigeria where the first cases occurred.
Aetiology
single-stranded RNA virus that belongs to the Arenaviridae family of viruses
Clinical
Onset 1-3 weeks after contact
Most are mild: fever, general malaise and weakness, and headache.
Others: severe symptoms including haemorrhaging (in gums, eyes, or nose, as examples), respiratory distress, repeated vomiting, facial swelling, pain in the chest, back, and abdomen, and shock.
Hearing loss, tremors, and encephalitis. Death due to multi-organ failure.
The most common complication of Lassa fever is deafness
Mortality in the third trimester of pregnancy is particularly high
Investigations
ELISA test for IgM and IgG antibodies as well as Lassa antigen.
Reverse transcription-polymerase chain reaction (RT-PCR) in early stage of disease.
Management
Prevent: avoid contact with Mastomys rodents. Rodent proof containers. Controlling their numbers and spread.
Isolation and precautions: masks, gloves, gowns, and goggles; using infection control measures, such as complete equipment sterilization; and isolating infected patients from contact with unprotected persons until the disease has run its course
Ribavirin, has been shown to be most effective when given early in the course of the illness.
Supportive care with fluid and electrolyte balance, oxygenation and blood pressure, as well as treatment of any other complicating infections
References