Related Subjects: Thrombophilia testing |Antiphospholipid syndrome |Protein C Deficiency |Protein S Deficiency |Prothrombin 20210A mutation |Factor V Leiden Deficiency |Antithrombin III deficiency (AT3) |Cerebral Venous Sinus thrombosis |Budd-Chiari syndrome

Vascular thrombosis and complications of pregnancy are associated with autoantibodies directed toward phospholipids or phospholipid-binding proteins. APL is one of the thrombophilia disorders associated with potential arterial and venous thrombosis
About
Also called Hughes syndrome and is a prothrombotic condition
Antibodies to phospholipids or phospholipid-protein complexes
Manifests as arterial and venous thrombosis, thrombocytopenia
Recurrent fetal loss and may be primary or secondary
Secondary causes: SLE, Connective tissue diseases, HIV, Hepatitis C, Lymphoproliferative disease
Transient aPL positivity is often seen with acute infections and so diagnosis depends on repeated testing
Antiphospholipid antibodies found in 1-5% in the general population increasing with age
Infographic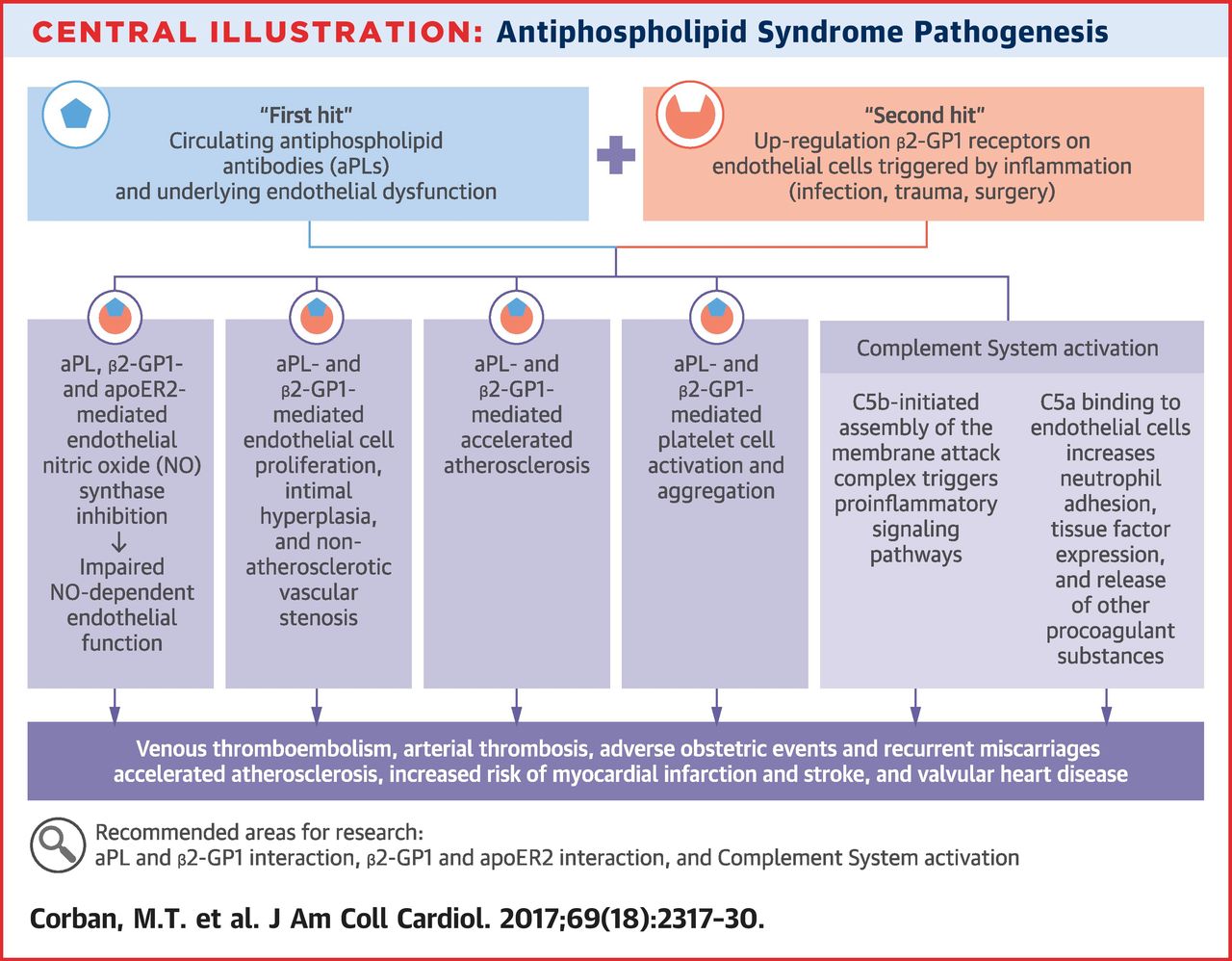 The Three Important Antiphospholipid antibodies
Lupus anticoagulant (LA)
Anticardiolipin antibodies (aCL)
Anti- ß2-glycoprotein-1 (anti-ß2-GP1)
Aetiology
An antibody binds to phospholipid on the platelet surface
This inhibits the clotting cascade in vitro manifest by a prolonged APTT.
In vivo it also binds to thrombomodulin on endothelium and slows Protein C activation causing a local prothrombotic state.
Actually binds to Beta2-glycoprotein 1 which binds to phospholipid acting as a natural anticoagulant
Primary vs Secondary Classification
| Name | Details |
| --- | --- |
| Primary APS | Antiphospholipid antibodies with thrombotic or related obstetric complications but no other underlying cause |
| Secondary APS | Antiphospholipid antibodies with thrombotic or related obstetric complications associated with a causative disease e.g. SLE |
Clinical
Female > Male ratio at least > 2:1
Thrombocytopenia, migraine headaches, and livedo reticularis
Recurrent fetal loss > 3 consecutive spontaneous miscarriages
Arterial thrombosis

IHD/MI and TIA/Stroke
Catastrophic APS with multiple clots over a short time period

Venous thrombosis

Cerebral venous sinus thrombosis
Budd Chiari syndrome

Livedo reticularis most usually over the knees
Heart / Vascular

Libman-sacks endocarditis
Myocardial infarction
Adrenal infarction
Renal artery stenosis

Metatarsal fractures
Guillain-Barré Syndrome
Revised classification criteria for the antiphospholipid antibody syndrome
Clinical criteria (one or more)
[1]. Vascular thrombosis: One or more objectively confirmed episodes of arterial, venous or small vessel thrombosis occurring in any tissue or organ
[2]. Pregnancy morbidity

a) one or more unexplained deaths of a morphologically normal fetus at or beyond the 10th week of gestation; or
b) one or more premature births of a morphologically normal neonate before the 34th week of gestation because of eclampsia, pre-eclampsia or placental insufficiency; or
c) Three or more unexplained consecutive spontaneous abortions before the 10th week of gestation

[3]. Laboratory criteria (one or more, present on 2 or more occasions at least 12 weeks apart using recommended procedures)

1. Lupus anticoagulant, detected according to the guidelines of the International Society on Thrombosis and Haemostasis
2. Anticardiolipin antibody of IgG and/or IgM isotype, present in medium or high titre (greater than 40 GPL or MPL, or greater than the 99th percentile), measured by a standardized ELISA
3. Anti-&beta 2-glycoprotein-1 antibody of IgG and/or IgM isotype, present in titre greater than the 99th percentile, measured by a standardized ELISA
The Global Anti-Phospholipid Syndrome Score [6]
The Global Anti-Phospholipid Syndrome Score (GAPSS)210 is a scoring system to predict the risk of thrombosis (either first or recurrent) and pregnancy morbidity.
The system consists of a combination of independent risk of thrombosis and pregnancy loss, including the antiphospholipid antibody profile and conventional cardiovascular risk factors.
The GAPSS can be calculated for each patient by adding the points corresponding to the different risk factors
The Global Anti-Phospholipid Syndrome Score
Anticardiolipin antibodies (immunoglobulin G (IgG) or IgM isotype): 5 points
Anti-ß2-glycoprotein antibodies (IgG or IgM isotype): 4 points
Lupus anticoagulant: 4 points
Anti-prothrombin/phosphatidylserine complex antibodies (IgG or IgM isotype): 3 points
Hyperlipidaemia: 3 points
Arterial hypertension: 1 point
Investigations
FBC: low platelets, Coomb's positive haemolysis
ESR/CRP - normal
Prolonged APTT
ANA, dsDNA etc if SLE suspected
Anticardiolipin [ACL] antibody - Serum ACL (IgG or IgM) or positive Lupus anticoagulant should be shown to be present on 2 or more occasions at least six weeks apart. The titre is essential.
Lupus anticoagulant [LAC] causes a prolonged APTT that is not corrected by adding normal plasma. An abnormal Lupus Anticoagulant is the laboratory test result that confers the strongest risk for thrombosis.
Transient false positives of low titre APL antibodies is seen especially in the elderly - it is wise to repeat several months apart, especially where there is clinical doubt
Dilute Russell's viper's venom test is prolonged. False +ve test for syphilis
Transoesophageal echocardiogram is strongly recommended in APS patients with ischaemic stroke as there is a high yield of valvular abnormalities.
Differentials
Vasculitis
SLE
Thrombophilia
Atrial myxoma
Management
Long-term warfarin is given to patients who have had a thrombosis with INR commensurate with risk
Aspirin 75 mg po od or Clopidogrel 75 mg po od may be an alternative if low risk or no thrombosis
LMWH Heparin may be used in pregnancy
Needs Expert help with Haematology
Direct-acting oral anticoagulants (DOACs are not recommended
References
[1]Miyakis S, Lockshin MD, Atsumi T, Branch DW, et al. International consensus statement on an update of the classification criteria for definite antiphospholipid syndrome (APS). J Thromb Haemost. 2006;4(2):295-306.
[2]Antiplatelet and anticoagulant agents for primary prevention of thrombosis in individuals with antiphospholipid antibodies. Cochrane review
[5]Meroni, P. L. et al. Anti-beta 2 glycoprotein I antibodies in centenarians. Exp. Gerontol. 39, 1459-1465 (2004).
[6]Sciascia, S., Bertolaccini, M. L., Roccatello, D. & Khamashta, M. A. Independent validation of the antiphospholipid score for the diagnosis of antiphospholipid syndrome. Ann. Rheum. Dis. 72, 142-143 (2013).