Related Subjects: |Subarachnoid Haemorrhage |Haemorrhagic stroke
About
A cause of primary intracerebral or subarachnoid haemorrhage
Much commoner in younger patients
There is a general incidence of 20-50 per 100,000.
Incidental asymptomatic findings in 1/2000 MRI scans.
Aetiology
There is a direct connection between a tangle of arteries and veins without the usual intervening capillary bed which protects veins from exposure to systemic blood pressure.
They can be found anywhere in the brain as well as the spinal cord and dura and surface of the brain. The main concern is haemorrhage.
Image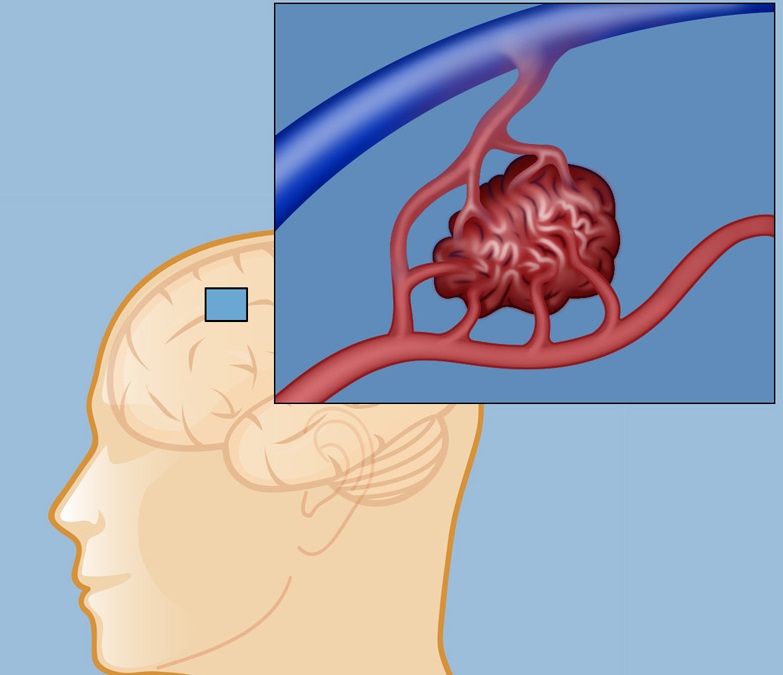 Genetics
AVMs are equally distributed between male/female.
10-25% of people with hereditary haemorrhagic telangiectasia will have at least 1 bAVM.
Other than that familial and genetic predisposition to AVMs is very rare.
Inherited Conditions with a predisposition to AVMs
| Sturge Weber syndrome | Hereditary Haemorrhagic Telangiectasia |
| --- | --- |
| Patients with facial cutaneous vascular malformation covering a portion of the upper or the lower eyelids, imaging should be performed to screen for intracranial leptomeningeal angiomatosis rather than true AVMs. A haemangioma may be present on the surface of the brain usually on the same side as the birth mark. It can gradually calcify with localised atrophy. Sometimes it can cause seizures and hemiparesis. | A rare autosomal dominant genetic disorder that leads to abnormal blood vessel formation |
| | |
Clinical
They are usually silent and found on incidental imaging.
Focal and secondarily generalised seizures and TIA like episodes
Headaches. Acute bleed and ICH and SAH stroke
Tinnitus. Large lesions may produce an audible bruit
Complications
Intracerebral haemorrhage
Subarachnoid haemorrhage
Epilepsy
Focal ischaemia due to "steal" phenomenon from adjacent areas
Venous hypertension
Hydrocephalus (Obstructive)
Mass effect and raised ICP
Carotid-cavernous fistula
Spetzler-Martin Grading of AVM: The Spetzler-Martin AVM grading system allocates points for various features of intracranial arteriovenous malformations to give a grade between 1 and 5. Grade 6 is used to describe inoperable lesions. The score correlates with operative outcome.
Size of nidus: small (<3cm) = 1, medium (3-6cm) = 2, large (> 6cm) = 3
Eloquence of adjacent brain: non-eloquent = 0, eloquent = 1
Venous drainage: superficial only = 0, deep = 1
Investigations
CT scan: Initial management is as for a haemorrhagic stroke. They can be seen pre-bleed on CT. These can be about 3-5 cm in size and can exert a mass effect. Many however are asymptomatic. Paradoxically small AVMS have a higher risk of bleeding. Imaging is useful. Non-contrast CT may just show calcification or blood if there has been recent bleeding.
MRI: is more useful and will show up the vessels and a draining vein.
Cerebral Angiography: is the gold standard. Imaging may be delayed until there has been some clot resolution to allow better visualisation. Angiography may allow haemodynamic pressures to be measured directly or indirectly by assessing the passage of contrast through the lesion. High pressure within the nidus of the lesion is associated with an increased risk of bleeding.
Management
Management depends upon an assessment of the risk of bleeding and that of intervention. It is important to gather as much evidence as possible. The fascinating ARUBA study showed that a 5 year follow up in a trial comparing surgical or endovascular intervention with best medical intervention confirms that despite the higher risk for stroke with an unruptured arteriovenous malformation (AVM), intervention only raises that risk. There was annual risk of spontaneous haemorrhage rate was 2.1% per year which increased by a factor of 4.5 with intervention. There was an increased functional deficit x 2.5 and no reduction in epilepsy or headaches. This was true of all treatment modalities and all AVM subgroups.
Superficial and small AVMS with a single feeding arterial branch draining to a cortical vein do best. The following suggests some of the possible management strategies which may at times be combined e.g. embolisation and surgery. Large AVMs in critical areas are usually managed conservatively.
Surgical extirpation is suggested as the main treatment for Spetzler-Martin grade I or II if they are surgically accessible with low risk.
Focal beam radiotherapy can be used to treat deep lesions with an intention to cause thrombosis of the lesion in AVMs of Spetzler-Martin grade I or II if they < 3 cm in size and surgery has an increased surgical risk based on location and vascular anatomy
Stereotactic radiosurgery (SRS). Radiotherapy can be used to treat deep lesions with an intention to cause thrombosis of the lesion. Radiation-induced necrosis, oedema, and cyst formation can develop long after treatment. The aim is to destroy the AVM. Highly targeted radiation beams are directed at the AVM to damage the blood vessels and cause scarring. Over time the AVM clots off. There is endothelial damage and the benefits may not be evident for years. Radiation induced changes seen on MRI as T2-weighted MRI hyperintensities around the nidus have also been associated with eventual nidus obliteration.
Conservative management: For many patients with no history of haemorrhage AVMS may be left alone. The risks of intervention can outweigh that of surgical intervention.
Endovascular Embolisation of large deep lesions may also be attempted. New techniques use rapidly polymerising liquid glues and are useful for deep and large lesions.
AHA recommendations
Unruptured bAVMs: Patients should be informed about natural history risks, which are reliably quantified over ˜10 years for ICH and ˜5 years for an epileptic seizure. The annual risk of a first-ever ICH from an unruptured bAVM is about 1%. Prognostic factors that modify this risk are uncertain. The 5-year risk of developing a first seizure for people with an unruptured bAVM is about 8%, and the 5-year risk of developing epilepsy after a first seizure is 58%. The discussion of treatment options with patients should include consideration of these risks weighed carefully against the relative risks of different intervention strategies and life expectancy.
Ruptured bAVMs: Use CTA, MRA, and DSA for underlying bAVMs in patients presenting with non-traumatic ICH when there is clinical or radiological suspicion. The annual risk of recurrent ICH from a ruptured bAVM is ˜5%. Increasing age, deep venous drainage, arterial aneurysms, and female sex may raise this risk. Treatment decisions should weigh the relative risks and benefits of different interventional strategies and their combinations
References
Mohr JP, Parides MK, Stapf C, Moquete E, Moy CS, Overbey JR, Al-Shahi Salman R, Vicaut E, Young WL, Houdart E, Cordonnier C, Stefani MA, Hartmann A, von Kummer R, Biondi A, Berkefeld J, Klijn CJ, Harkness K, Libman R, Barreau X, Moskowitz AJ; international ARUBA investigators. Medical management with or without interventional therapy for unruptured brain arteriovenous malformations (ARUBA): a multicentre, non-blinded, randomised trial. Lancet 2014;383:614-621.