Related Subjects: | Fever in a traveller |Malaria Falciparum |Malaria Non Falciparum |Viral Haemorrhagic Fevers (VHF) |Lassa fever |Dengue |Marburg virus disease | AIDS HIV | Yellow fever | Ebola Virus | Leptospirosis | Crimean-Congo haemorrhagic fever |African Trypanosomiasis (Sleeping sickness) |American Trypanosomiasis (Chagas Disease) |Incubation Periods | Notifiable Diseases UK
VHF should be considered in a patient who has visited an endemic area within the past 21 days, or who has had close contact with a patient with suspected VHF within 21 days. Absolutely NO blood samples must be sent to the laboratory until the situation has been assessed. The commonest diagnosis in patients with suspected VHF is malaria
Key UK Guidance here - see the treatment algorithm here: Viral haemorrhagic fevers risk assessment algorithm (version 6: 18.09.2015) and see the Management of Hazard Group 4 viral haemorrhagic fevers and similar human infectious diseases of high consequence and Key CDC guidance for US healthcare workers is here
About
Group of diseases caused by several distinct families of viruses.
Typically result in uncontrolled bleeding, or haemorrhaging
Vary from mild to severe, life threatening disease.
There is a particular public health importance because

Some can spread readily within a hospital setting;
They can have a high case-fatality rate
They are difficult to recognise and detect rapidly
There is no effective treatment cure or vaccine
Virology
Viral haemorrhagic fevers are caused by several distinct families of viruses: arenaviruses, filoviruses, bunyaviruses and flaviviruses
Aetiology
Caused by several families of viruses with some common characteristics:
They are RNA viruses which mutate and change often
Covered, or enveloped, in a lipoprotein outer layer so easy to destroy with physical (heat, sunlight, gamma rays) and chemical (bleach, detergents, solvents) methods.
They naturally exist in animal or insect populations, referred to as host populations, in restricted geographical areas where the host species live.
Spread when a person encounters an infected animal or insect host.
Some can spread from person-to-person.
Outbreaks occur sporadically and cannot be easily predicted
The most concerning are Lassa fever, Congo-Crimean HF, Ebola, Marburg
Spread is by direct or indirect contact with infected fluids. Experts agree that there is no circumstantial or epidemiological evidence of an airborne transmission risk from VHF patients.
Known
Highest risk

Lassa fever
Congo-Crimean HF
Ebola
Marburg

Others: These are less of a concern from an Infection Control perspective. Standard isolation precautions and good laboratory practice are sufficient (wearing gloves for taking and handling blood samples and avoidance of sharps injuries

Argentine HF (Junin)
Bolivian HF (Machupo)
Chikungunya HF
Dengue
Haemorrhagic fever with renal syndrome (Hantaan)
Kyasanur Forest disease
Omsk HF
Rift Valley disease
Transmission
The viruses causing VHF are transmitted to humans via infected hosts such as monkeys, rodents or insects.
Person to person spread may occur as a result of direct contact with blood and body fluids.
Clinical: The commonest diagnosis in patients with suspected VHF is malaria
Fever, fatigue, dizziness, muscle aches, loss of strength and exhaustion.
Bleeding under the skin, in internal organs or from mouth, eyes or ears.
Severe cases: shock, CNS malfunction, coma delirium and seizures.
Take a travel history
Diagnostic requirements in UK: patients need to have
(i)Travelled to an area where VHFs occur; and/or
(ii) been exposed to a patient or animal infected with VHF (including their blood, body fluids or tissues) or
(iii) worked in a laboratory with the infectious agents of VHFs; are at risk of infection from VHFs
Patients with a fever > 37.5°C are highly unlikely to have a VHF infection if:
They have not visited a VHF endemic area within 21 days of becoming ill;
They have not become unwell within 21 days of caring for or coming into contact with the bodily fluids of / handling clinical specimens from a live or dead individual or animal known or strongly suspected to have a VHF;
If their UK malaria screen is negative and they are subsequently afebrile for >24 hours;
If their UK malaria screen is positive and they respond appropriately to malaria treatment;
If they have a confirmed alternative diagnosis and are responding appropriately.
Reassess risk status for VHF diagnosis if any of the following
Nosebleed;
Bloody diarrhoea;
Sudden rise in aspartate transaminase (AST);
Sudden fall in platelets;
Clinical shock;
Rapidly increasing O2 requirements in the absence of other diagnosis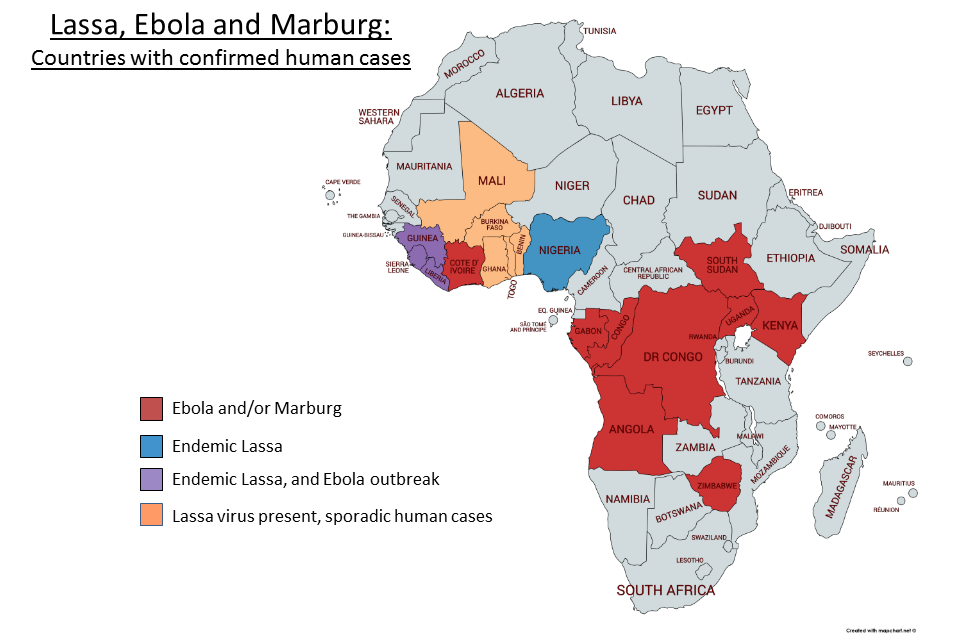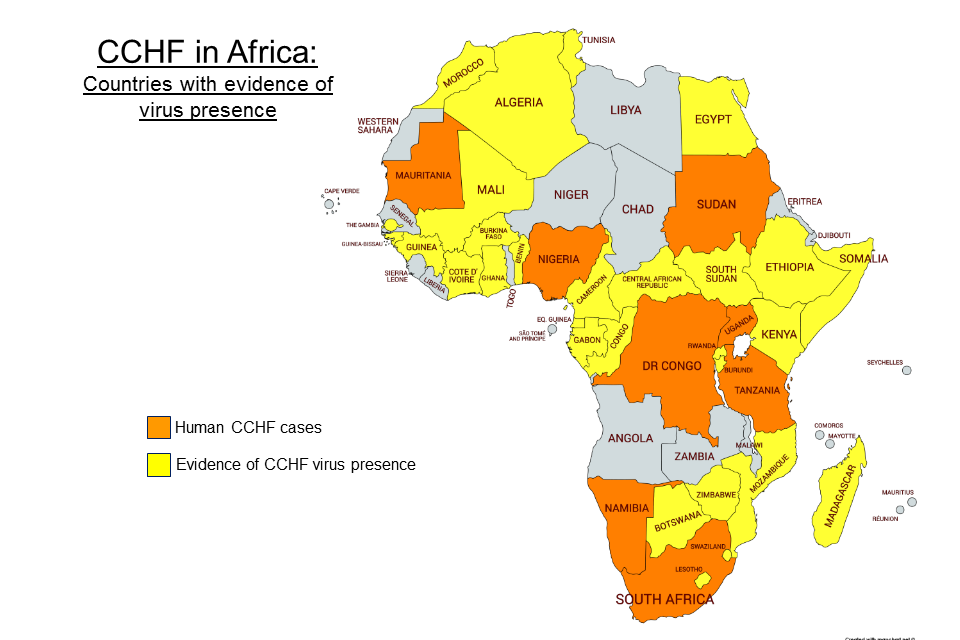 Investigations
Absolutely NO blood samples must be sent to the laboratory until the situation has been assessed
Laboratory tests in a specialist PHE laboratory, the Rare and Imported Pathogens Laboratory (RIPL), including antigen and antibody detection, can diagnose VHFs definitively. Antigen detection is particularly useful in the early acute stage of illness
Management: take urgent local ID advice before sending samples. Isolate patient. Consider malaria though it is possible to have VHF and Malaria
See the treatment algorithm here: Viral haemorrhagic fevers risk assessment algorithm (version 6: 18.09.2015) and see the Management of Hazard Group 4 viral haemorrhagic fevers and similar human infectious diseases of high consequence
If Lassa fever/Congo-Crimean HF/Ebola/Marburg suspected seek immediate advice from the on-call consultant ID physician and consultant medical microbiologist. Do Not send ANY blood samples to the laboratory.
If a VHF is suspected in a patient who is still at home, then the on-call infectious diseases consultant must visit the patient at their home. The patient should not be admitted to hospital unless critically ill
If VHF is suspected in a patient in hospital then the on-call ID consultant and consultant medical microbiologist must be contacted straight away. The patient should be taken straight to a negative-pressure sideroom. Absolutely NO blood samples must be sent to the laboratory until the situation has been assessed.
Some viral haemorrhagic fevers, such as Lassa fever, are treatable with anti-viral drugs. Most, however are only managed supportively. New drug therapies are being evaluated for Ebola virus disease.
References